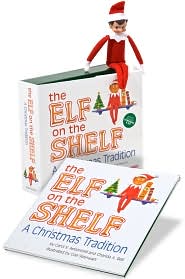 Have you heard of Elf on a Shelf? If not it is such a wonderful and fun holiday tradition we started a few years ago. Here is how it works, each elf comes with a story explaining the magic. Your child/children get to name the elf, which it half the fun! Ours is named Chip. Then each night Chip heads back to the North Pole to report to Santa how everyone behaved. Each morning when he returns he finds a new spot to sit...so you can imagine the fun in finding where Chip is every morning!
Chip arrived at our house this morning with a special note:
I can't wait to see what crazy things this elf has planned for this year!!
(Don't worry I plan to keep you updated!)